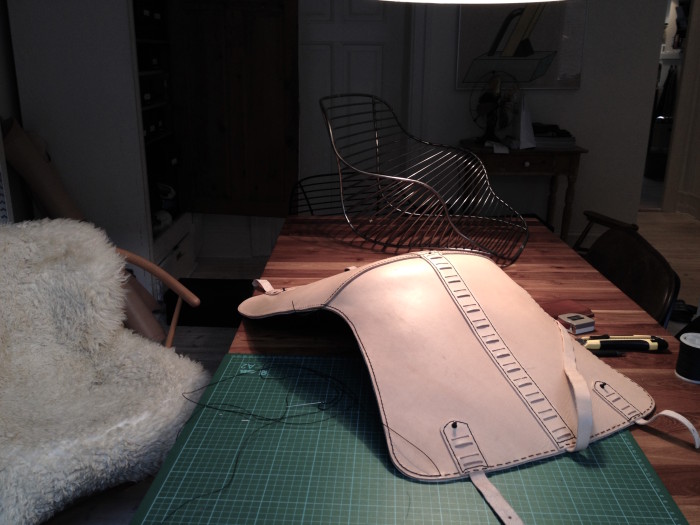 So the decision had been made. Christian and Jasper decided to make a run for it.
Now they needed to find the right subcontractors. They started seeking out upholsterers. Who is the best? Who can do what?
Jasper and Christian engaged with a small company who was very keen on the project. They made some of it and returned it to the guys. But Jasper and Christian weren't happy.
"The thing was that we already knew what we wanted. Or sort of at least. But we didn't know how to articulate it. We didn't know how to explain our ideas. So the output never looked like what was in our heads."
The guys started looking into the art of saddle making for their upholstery. Within this tradition you use full-grain leather for stiffness and soft leather for comfort.
Denmark has a long and renowned tradition of creating furniture with a lot of skilled craftsmen and designers during history. But in spite of this, Christian and Jasper found nobody that had experience using the handcraft of saddle making in the creation of furniture. Nobody knew how.
In Denmark we typically make upholstered furniture in two ways. One is where the upholstery is sewn inside out like with a classic cushion. And the most common way is the one known from many of the classics like Arne Jacobsens Egg and Swan chairs and the Papa Bear chair by Hans J. Wegner. This is where a supporting structure or frame is covered with foam and fabric or leather.
"But neither of that worked for us. We wanted to uncover the construction, the metal frame, but also we couldn't go with the classic cushions. It would become all wobbly and wouldn't work. So we needed the stiffness of a thick full-grain leather that would become self-supporting as in the case of a horseback saddle."
Christian and Jasper went to the best upholsterers in the country; the ones that did upholstery for the greatest Danish design brands.
But they all only knew the inside-out and wrapping techniques. Their suggestion to a solution to the upholstery challenge was to use velcro when making the attachments to the wire frame.
"When they said that we were pretty sure that they weren't the right ones for us. Even though they were the best – and only ones – out there."