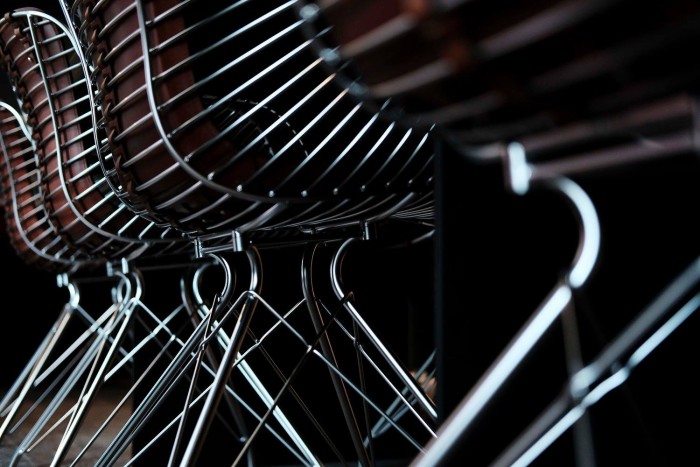 So as we've learned the upholstery was somewhat a challenge to Christian and Jasper, However, when it came to the wire part of the chair, the story was different. The wire was the fundament of the chair.
When the whole thing was still a school project they were working with a shell, and when they decided to take it to new levels, they tried to figure out how to rethink and redo it.
If you imagine that the entire chair is a shell, you have to picture that you cut through the chair from every possible angle. That will get you a bunch of curved cross sections. Each cross section forms a wire that all together create the shape of the chair.
The guys tried a lot of different versions. Some turned out more like a mesh, but finally they found the right combination of what was possible and what was aesthetic. This was what brought it to a higher level.
"It is very fundamental for our approach to design: What can you actually do with the material and what do you want to do. The handcraft and the design are united in one," Christian says.
Started bending wire over the knee
After creating the wires – or cross sections, Christian started drawing up the construction on a computer, ensuring that both ergonomics and aesthetics were taken into account. After that it was time to build the first prototype.
"I started bending the wires. Actually I started bending them across my knee. Today it's all made on a CNC bending machine through a computer, but back then I had created models in wood and used these to bend the wires. I spent hours in the hen house. When you are starting up like that, time is all you got. Time doesn't cost you anything."
There were several times when the guys considered starting all over with new moodboards instead of trying to develop their school project further.
"Because a chair really is one of the hardest things to do. But it's also the most exciting coolest. It's what all the great designers are known for."