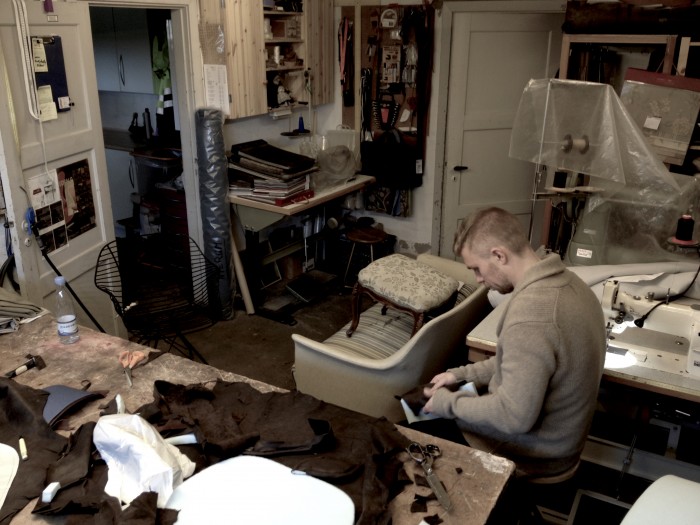 Well, the idea for the Wire Collection, or actually just for the Wire Dining Chair, appeared, while the two boys were studying. We know that by now.
When they graduated, they started each their job. Jasper as a Senior Product Designer at a strategic design consultancy and Christian as Industrial Designer and Project Manager at a textile- and furniture company. While working here, Christian and Jasper were contacted by a design brand, who wanted to bring them and the chair project into their business. So the chair project continued on the side, and the guys were still working at their regular jobs.
They made, what they call "idiot-proof production material", which was sent to India.
"But what came back wasn't even near what we wanted it to be," says Jasper and adds:
"We learned something about how complex the development from drawings to the end product is. But apart from that it really was a lousy product and a lousy communication."
Later on some other company was interested in Christian and Jasper and the chair. They tried the same ting – this time with China. And the same result: A completely hopeless prototype was returned.
"They just didn't understand the whole idea of it. And I think deep inside we knew that they wouldn't succeed, but we were running out of options and just really wanted something good to happen," Jasper remembers. The craft itself was miserable. The communication was ridiculous.
"We've spent so much time making this material, so that it would be easy for them to produce. But they didn't time reading it. They didn't understand the importance of quality."
Christian and Jasper still believed in the product. And all the interested companies (there were more than these two) confirmed their belief. Apart from the belief in the product itself, something else grew: the urge to control the whole thing themselves.
The guys never liked the concept of drawing and developing products and sending them off and then being out of the process.
"We wanted to get sore muscles and blisters on our hands rather than ending up with RSI from using a computer mouse," Jasper says.